Sleep Inn & Suites | Mt. Hope
Get a happy night's rest when you stay at our Sleep Inn & Suites® Mt. Hope near Auction & Event Center hotel in Millersburg, OH. Enjoy simply stylish elements inspired by nature to help you relax. As a guest, you'll be able to enjoy modern amenities in every guest room like USB ports, kitchen facilities and premium bedding. We also provide free WiFi throughout the hotel, a free deluxe continental breakfast each morning and a fitness center to keep you connected to what's important during your stay.
Sleep Inn & Suites properties are conveniently located across the country, so our guests enjoy being within easy reach of local attractions. From our hotel, you'll get to experience the great east central Ohio outdoors with our property close to the Holmes County Trail, Amish Country Riding Stable and the Black Diamond Golf Course. We're just 15 minutes from historic downtown Millersburg, giving you access to local dining, shopping and entertainment.
If you remain on property during your stay, you can still make the most of your experience in Millersburg. Break a sweat and keep fit in our 24-hour fitness center or relax in the indoor pool. These are just a few ways that Sleep Inn & Suites is designed to uplift you, while providing the modern touches that allow you to fully relax.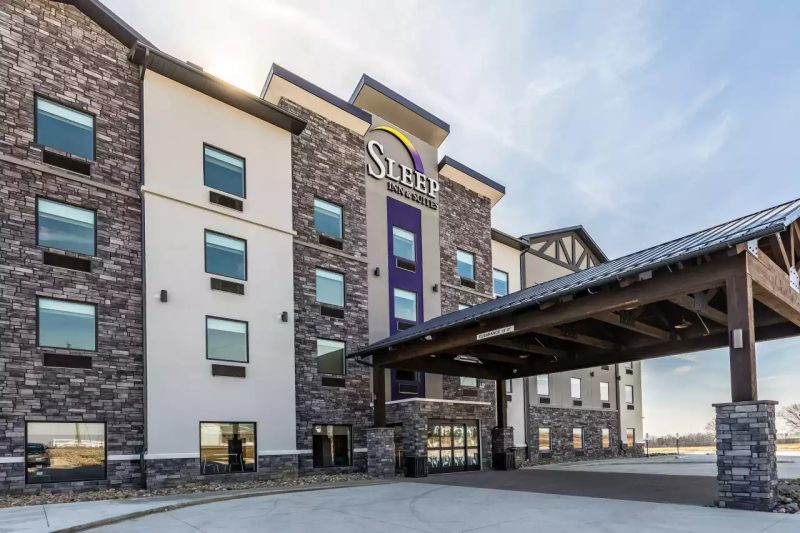 Relax & Unwind in Millersburg, OH
Hang up your hat and kick off your boots at Sleep Inn & Suites Mt. Hope. Wake up to the sound of birds chirping outside your window. If you're feeling adventurous, you can head out into the surrounding countryside and explore the many hiking trails that wind through the hills. You'll be surrounded by stunning natural beauty as you walk, and you may even spot some of the local wildlife, such as deer and wild turkeys.
When it's time to do some shopping, you'll be spoiled for choice in Millersburg. The town is home to a number of charming local shops, where you can find unique gifts, handmade crafts, and delicious Amish food. You can even visit one of the many roadside stands and pick up some fresh produce to take back to your hotel.
Premium Free WiFi
Indoor Heated Pool
Late Check-Out Available*
Full Buffet Breakfast
Sleep & Relaxation App Access
Free Coffee
Laundry*
Meeting Room*
Convention Center*
Business Center
Gift Shop*
Air Filtration
Elevator(s)
Truck Parking
Outdoor Parking
Bus Parking
Copy Machine*
Fax Machine*
100% Smoke-Free Hotel
No Pets Allowed
Coffee Maker
Tea and Coffee in Room
Outlet Near Phone
1st Floor
2-Person Sofabed
Desk with Ergonomic Chair
Refrigerator
Iron and Ironing Board
Microwave
AM/FM Clock Radio
USB Charging Port
(Amenities may vary by room type)
Accessible public restrooms
Parking spaces for vans in self-parking facility
Hotel has TTY for guest use
Parking spaces in self-parking facility
Accessible swimming pool
Route from accessible public entrance to swimming pool
Public entrance is accessible
Route from accessible public entrance to meeting room/ballroom area
Accessible business center and/or Meeting Room(s)
Free Accessible Parking
Accessible Features
Route from accessible public entrance to business center
Accessible Public Entrance to Fitness/Spa Center
Accessible Hotel
Route from accessible public entrance to accessible guestrooms
Route from accessible public entrance to registration area
Mobility and Hearing Accessible
Accessible Tub
Roll-In Shower
Vision Impaired
Visual Telephone Alert
Visual Alarm Alert
Visual Doorbell Alert
Lowered Closet Rod
Doors have 32" Clear Width
TV with Closed Captioning
Wheelchair Accessible
Toilet with Grab Bars
No Roll-In Shower
* Indicates services/amenities that may require an additional cost.
MILLERSBURG'S TOP RATED HOTEL
I stay here often for business. Always top notch. Clean, quiet and priced fairly. Staff is always friendly and accommodating. Property very well maintained. Although there are other options in the area, this hotel is the best choice for the price.
Very nice clean place. Would stay again for sure.breakfast was a variety of things.
Darla Chrosniak
2022-10-01
Beds are very comfortable and rooms are very good sized and clean. Nice staff
The room was super clean and the service was amazing! The breakfast selection was really nice as well!
Positive: Very clean and wonderful staff!!
Very clean! Comfortable beds
Positive: The staff was very friendly and efficient during our check in- all my questions were answered thoroughly. I especially liked that the hot breakfast was available until 10:00 am and we didn't have to hurry in the he morning to get downstairs to eat.